Chris - how's your mother-in-law? We're near the end with my father-in-law and we expect the call that's he has passed away at any moment now. It's tough but we're doing well. Our prayers are with you and your family also.
I hope no one minds the periodic updates. As someone relatively new to the sport, it's important that I at least expose myself to your criticism in case I've missed something critical. The only way to do that is post an occasional update.
First of all, I've recruited at least one other person to go with me. One of my friends purchased Alm's Long Haul and we've been out at least once a week since he took delivery. He has a ways to go but I'm confident that he'll make it.
Chris and I are still talking about his participation and we're both hopeful that we can work something out. We need two other people to join us for reasons that will follow in a moment.
I've got two other friends who are also interested. This is a couple and I'm hopeful that one of them will join us. We're going to put them into our Long Hauls on Sunday for a test paddle. The Long Hauls are too much kayak for them - they're both more typically sized whereas Kevin and I are both well over 6' tall - so this is just for a test paddle.
From a physical perspective, I'm in better shape than I've been in years. My goal was to be in the top 95% at my local Y and as of today, YTD, I'm at 96%. I still feel like I have a long ways to go though which means I'll keep it up.
After much thought, we decided to reformat the trip slightly. I found a local contact that told me that picking up a local boat from Manaus to Novo Airao would be "interesting" at best. You've seen all the news reports - "overloaded boats sink in the Amazon", etc.
In fact, there was a collision in the last two weeks and 12 died.
Link
. This happens two or three times a year.
My contact's concern was more from security - 'you have to watch your stuff 24-hours a day" on the boat. I was already aware of that from my first trip up the Amazon but I took his word to heart and started thinking about alternatives.
Not going isn't an option. After discussion with my local friend here, we started exploring the option of renting a larger boat to act as a mother ship. Most of the sites related to tours are more touristy that we wanted which was a ride, a place to sleep and maybe meals. The normal offering was tours here, tours there, walks in the jungle, visits with the locals, etc. etc. That's all fine and dandy but we didn't want a set schedule.
After many emails and discussions, we settled on a local tour operator in which the primary contact is a gringo married to a local girl. Their references checked out and once we started our discussions, we were able to come to an agreement on price which include two hotel nights, all meals on the boat, transfers in and out, etc.
Note: I know that this is the *gringo* price. To insure our level of safety and comfort, we've agreed that it's a reasonable cost. I won't reveal it yet - but we're in agreement for 2009 and the cost per person for 4 people. I may opt to add in another person for five and I'd hope we could keep the costs to be incremental only - not simply another multiplier.
I mean - how much more can another bag of rice and a few more fish cost??!!!
I have others who would join us in a heartbeat but if the focus isn't on kayaking, those who don't will be bored quickly. It wouldn't be fair to them or to us if it were opened up to non-kayakers.
Essentially, we'll be at 7-days on the water. We'll go see the meeting of the waters just outside of Manaus and then we'll head towards the Anavilhanas Archipelago for the balance of the trip. We may or may not go into Novo Airao itself.
The boat is a pretty typical Amazon riverboat. I'd say that this is pretty representative: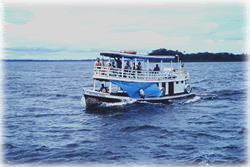 I hope that this will be only the first trip into the area. We'll be a little cautious this time and see what lessons we learn for the next trip.
AFAIK, I'm still on for the Alabama River trip this June. Chris - if you want to meet me, we can figure out the logistics such that we leave your vehicle in Montgomery and then we can drop you off back there at the end of the trip assuming we're on the same schedule. You can always paddle further if your schedule permits of course. I can send you my schedule if you're interested.