Well, I suppose it time to update this thread. There's been a lot of water under my keel since I joined this site and I've progressed from not knowing much of anything and being pretty much out of shape to knowing a little more than I did a year ago, I've become a little more physcially fit and, the best part is that I've met and paddled with a couple of ya'll.
Our plans for Brazil have progressed passed the dreaming stage to the firm-we-got-dates-and-reservations phase. I've conned ... err...talked four others into joining me on this trip. Kevin aka Bill the Duck, who posts here occasionally, Chris aka kavakamper, Richard aka the Georgia_Kayaker and Paul aka BrazilBrasil. The last two fellows are better know on p-net and I'm sure that Tom Yost will recognize Paul's name.
We're lucky to have Paul along. He's married to a Brazil and speaks fluent Portuguese. He was either born in Brazil to Amerians working there OR he lived there as a young child for a period of time. Either way, we're happy to have him along.
Can't say enough about Richard - no nonsense when it comes to paddling and I think his motto is "shut up and paddle". Richard is about 60, an ex-Navy seal with a long service history in Vietnam. He paddled with Chris and I on the Alabama trip and I think I can speak for Chris when I say that we certainly enjoyed his company.
The first three of us noted above already have flight reservations. Chris is lucky - he can now fly from ATL straight to Manaus - that's a brand new route with service starting in Dec. Rumor has it that Chris is flying in business class where the Grey Poupon is served.
Kevin & I will take the scenic route from here to LA to Panama to Manaus and on the return, we'll go w---a----y south to Sao Paulo and return via Houston. We'll be in the back of the plane with the chicks....chickens. Yeah - that's it. Chickens.
Since Dave never voluntered to ship his mothership to Brazil, we decided to rent one there. It'll be a small Brazilian riverboat much like this one: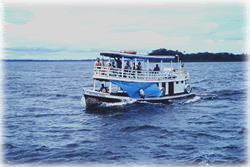 Nothing fancy - we'll sleep in hammocks and I'm sure we'll eat a ton of fish, rice and beans. Eight days and seven nights and the boat will go where we want it to go. That'll be interesting eh? Our first monsoon storm on such a small boat will be interesting also.
The area that we'll probably focus on will be the Rio Negro to the northwest from Manaus: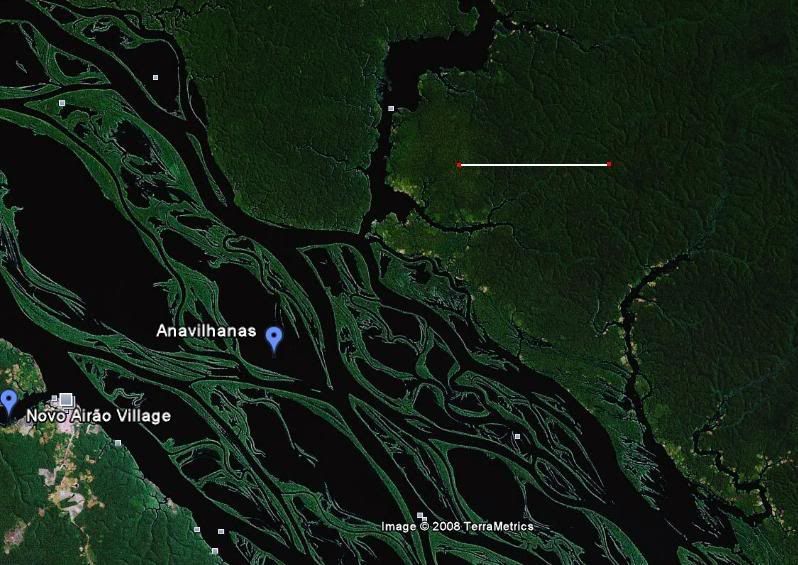 For scale, I drew in a yellow line that's 5 miles long. We'll also take advice from the locals if they mention something to the south that is interesting.
Outside Manaus, you can see the Meeting of the Waters where the Rio and the Amazon mix. Very distinctive - something you don't want to miss. We'll see the Amazon Theater in Manaus and hopefully, the pink dolphins in Novo Airao. I've already seen two of the three items listed and, well, I guess if dead pink dolphins count, I've seen all three. I don't count dead dolphins though...
I'm seriously thinking about leaving the Long Haul in Manaus - for the next trip.
We'll see how this trip goes.