Finnaly, i went out for the first time with the new bike trailer.
Assembling of the parts was very easy, everything is extremly well designed and build.
I strapped the Feathercraft Kahuna on the trailer, had to put an old precut campingpad between the bag and the trailerboard.
the board has a non slip surface, like sandpaper and they recommend in the instructions to cover that surface if you are not hauling expedition boxes, soft bags will get wears.
on flat road, i hardley noticed that i was hauling the trailer, but as soon as i did hit the hills (there where plenty on the way to the lake) i had to shift down on the first gear, but after all, i was hauling a 30 kilo load.
left had turns where no problem at all, i just had to be carfull on right hand turns, the rear wheel would meet the towing arm, but i was riding on a 28"" bike, on a 26"" mountainbike this would not happen.
Ready to go: The kayak and all the equipment is on the backpack, waterbottles and some threads are in the deckbag.
In the hills between Wallerlake and Irrlake.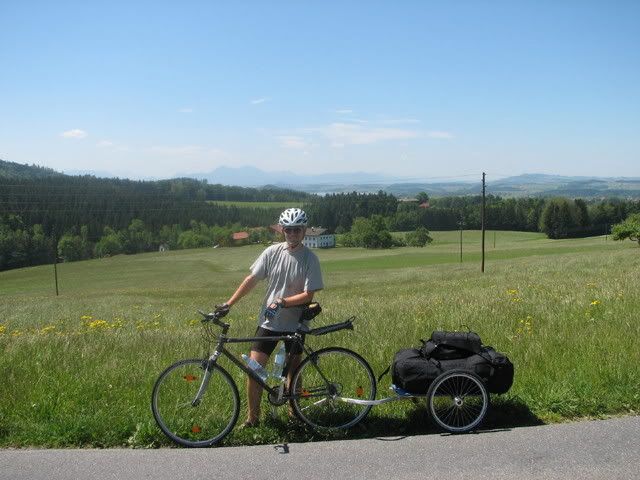 I am getting there!
On the lake,
Half an hour later: on the water.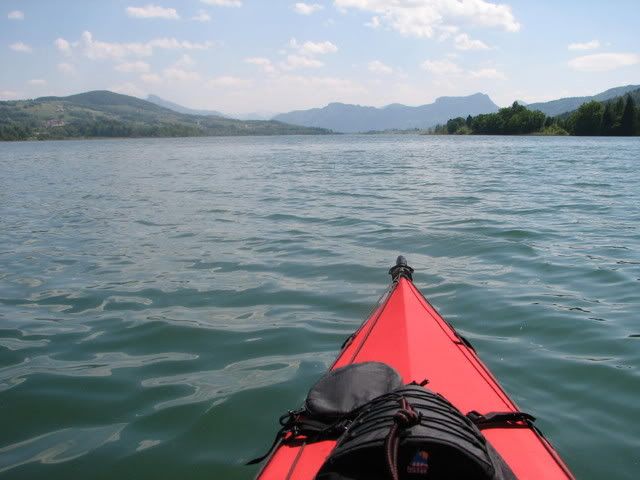 Back home, i could not get the trailer off the bike. as it turned out, on the way uphill, the hitchcup (attached to the quickrelease of the rear wheel) had shifted to a allmost vertical position, thus allowing the trailer to move the hitch a little on downhill rides.
as result, the hitchcup got bended, and it was impossible to get the trailer off the bike. usually, you just take out the safety pin and slide the hitchbolt out of its cup, i had to take the screws off the bolt and disconnect it that way.
The trailer came with a set of 3 hitchcups, i can easy replace the damaged one, the quickrealease needs to be really tight, so the cup can not move.
Here are some photos, the left cup is unused, the right got bended, but the trailed was still connected bombproof.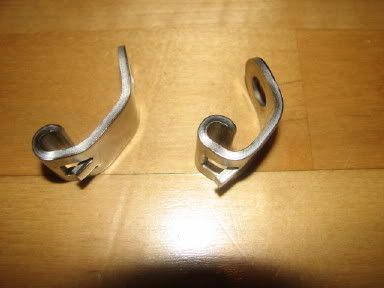 However, i called the german distributor and they offered a brand new Weber hitch, with lock and kickstand at a 30% discount, needless to say, that i ordered that thing.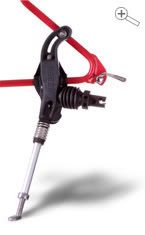 Will post again after the new hith has arrived!
servus,
Willi